Every sport shirt brought in to us is different, there is no one size fits all sport shirt, much like there is no "one size fits all" framing option for sport shirts. We'll discuss with you how you'd like it framed, from there we'll be able to provide you with a quote to Have it Framed!
We use many different attachment methods to hold sport shirts in to the frame. We prefer to use LOW invasive methods such as sewing and tagging.
If you need a plaque or a title window for the shirt we can also arrange that.
Why not have a look at some of the shirts we've remembered to photograph which are featured below

Great job! Had 2 items to be framed - a signed sports shirt and limited edition print. Very friendly, helpful service. Lots of advice on frames, borders, backgrounds etc. to make the best of my display. Would definitely recommend.

Steve Lee - Google Review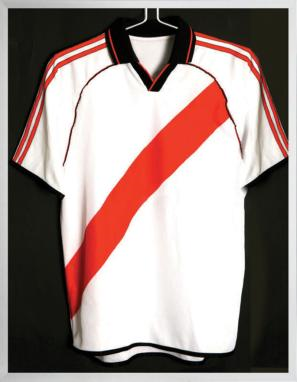 Frame Box DIY Sport Shirt Frames
Sold out
THESE ARE ORDERED AS REQUESTED - PLEASE CONTACT US TO PLACE YOUR ORDER
The shirt of your favourite team, a T-shirt from the last rock concert you went to, souvenirs from holiday or your new arrival's first romper suit – with the new FrameBox from NielsenBainbridge you can show off your special mementoes, emotions and passions in impressive style.

In contrast to conventional picture frames, three-dimensional objects with a thickness of up to 5 cm can be framed in an optimum fashion. Textiles hang on the aluminium hanger that is also supplied so that they can air and yet are still protected in the FrameBox. Other collector's items such as coins, dinky cars, shells and matchboxes etc. can be attached very easily to the stable back panel.

The ease with which the box can be opened and closed with a click closure makes it possible to change the objects on display very quickly – as often as you want. The FrameBox consists of an aluminium frame which conveys timeless elegance, a discreet clothes hanger and a professional suspension system with a comprehensive range of accessories including a drilling template and detailed instructions for use.
PLEASE NOTE - THE 70x90 opens from the front and has an aluminium hanger / the 60x80 opens from the rear and has a card hanger.
£131.15 GBP
View This Product